2022 Audi Q5 - The Crowned Jewel of Luxury SUVs, More At Audi Annapolis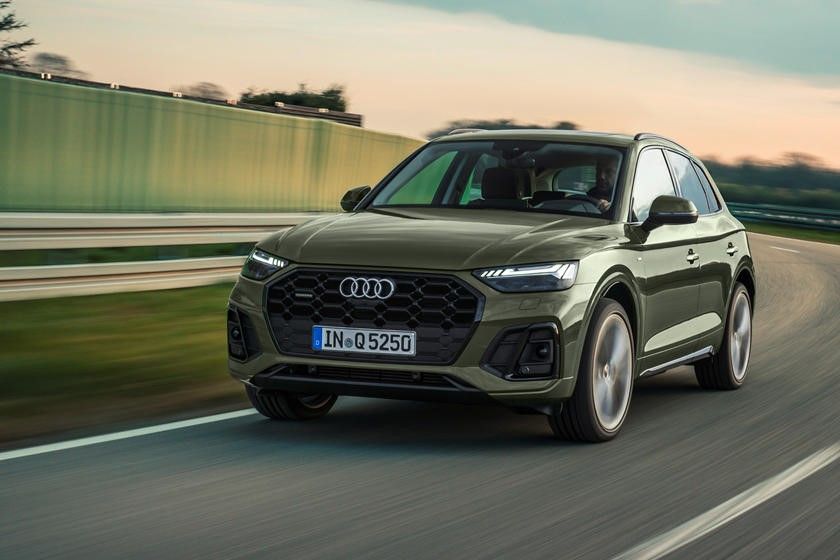 Hours of Operation
Saturday
Sunday
Monday
Tuesday
Wednesday
Thursday
Friday
8:00 AM - 6:00 PM
Closed
7:30 AM - 8:00 PM
7:30 AM - 8:00 PM
7:30 AM - 8:00 PM
7:30 AM - 8:00 PM
7:30 AM - 7:00 PM

Find us here
2022 Audi Q5 - The Crowned Jewel of Luxury SUVs, More At Audi Annapolis
The Audi Q5 has created a special place for itself in the Luxury SUVs niche. It has a superior standout design with exceptional performance and technology. It also has some of the classic features that only an Audi will give you.
Once you get to know about the Audi Q5, all that is left for you to do is get one for yourself! You can visit Audi Annapolis at the earliest and get the best deals for leasing or financing this car. Along with the sales executives, find out which way suits you the most to drive an Audi SUV class.
I. Design
First things first, let's talk about the design. It has a stylish S-line exterior along with the S-line bumpers, giving it a classy look. The S-line exterior is complemented well by the Black Optic Package. The package includes black roof rails and high-glass black exterior elements.
The wheels have a bi-color combination with a 5-arm cutter design. The LED headlights give you optimal light to drive at night or day. You can also select the Matrix design LEDs for a unique look.
The design does not just make it look amazing, but it also enhances the driver's experience. The warm weather package keeps the interiors cool and keeps you comfortable in hot weather. The front seats come with ventilation to maximize comfort. The 40/20/40 split rear creates extra cargo space. The Audi Q5 luxury SUVs provide both style and convenience so that the car is functional just as much as it looks elegant.
II. Performance
Audi Q5 has an exceptional performance range that makes it Audi's bestseller luxury SUVs. The plug-in hybrid variant (55 TFSI® e) promises the best fuel economy. Both 45 TFSI® Prestige and 55 TFSI® e variants provide a horsepower of 362 HP with a torque of 369 lb-ft. It can reach 0-60 mph in just 5 seconds. The plug-in hybrid variant has a battery capacity of 17.9 kWh. Even though the car can reach top speeds in less time, it is advised to follow the traffic rules and reach the speeds only where it is allowed and safe.
III. Technology
Audi Q5 comes with an MMI touch display. The infotainment system display has sleek graphics with amazing feedback. The display screen is customizable, and you can add many features like contacts, messages, and playlists if you want. The car comes with Audi connect, which offers assistance tools for excellent navigation, vehicle services on the go, finding your car, roadside assistance, and so on.
The Bang & Olufsen sound system livens the car and provides 3D sound all around the car. 19 speakers and a 16-channel amplifier give a truly premium experience. If that is not all, there is also a 3-month trial subscription for Sirius XM so that you can listen to music uninterrupted, enjoy sports, Pandora stations, and so much more!
Audi knows the importance of safety, and hence there are emergency calls and stolen vehicle locating features to ensure your and your Audi's security.
IV. Driver Assistance
Whenever you have to park in parallel or perpendicular spaces, Park Assist provides steering guidance. The Audi Q5 has a 360-degree camera view so that you can look at your vehicle from all angles making it a crucial point while parking confidently. There are also various features to ensure there is less risk of collisions with the preset distance between the other vehicles and stopping the car in an emergency by hitting breaks.
How to Drive One?
There are multiple ways in which you can drive an Audi Q5. You can either own it, lease it, or rent it. Special programs and offers make it easy to drive an Audi Q5. At Audi Annapolis, you will get detailed information about special dealership offers and programs, along with the expatriate program, college graduate program, first-time buyer program, etc.
You can also rent any luxury SUVs from the Audi family using Silvercar by Audi at airports and metropolitan areas without any hassles.
The Audi Luxury SUVs Family at Audi Annapolis
Hop in at Audi Annapolis to find Audi Q3, Audi Q5, Audi Q7, and Audi Q8 models of luxury SUVs. You can spring in for a test drive if you have made up your mind to get a luxury SUV. The sales team at Audi Annapolis will find the best lease or loan terms specific to your needs.
Other Luxury SUVs - in Comparison with Audi Q5
Audi Q5 is among the best of the best luxury SUVs available out there. Don't just choose an Audi blindly. You can compare it to the giants of SUVs from the 2022 lineup of Mercedes Benz GLC Class, Acura RDX, BMW X5, Porsche Cayenne, Lincoln Aviator, 2022 Cadillac Escalade, and 2022 Land Rover range. Once you have compared the features, technology, performance, etc., choose only the best for yourself.
So, this is all you need to know about Audi Q5. For exceptional customer service, visit Audi Annapolis now to get your luxury SUV.