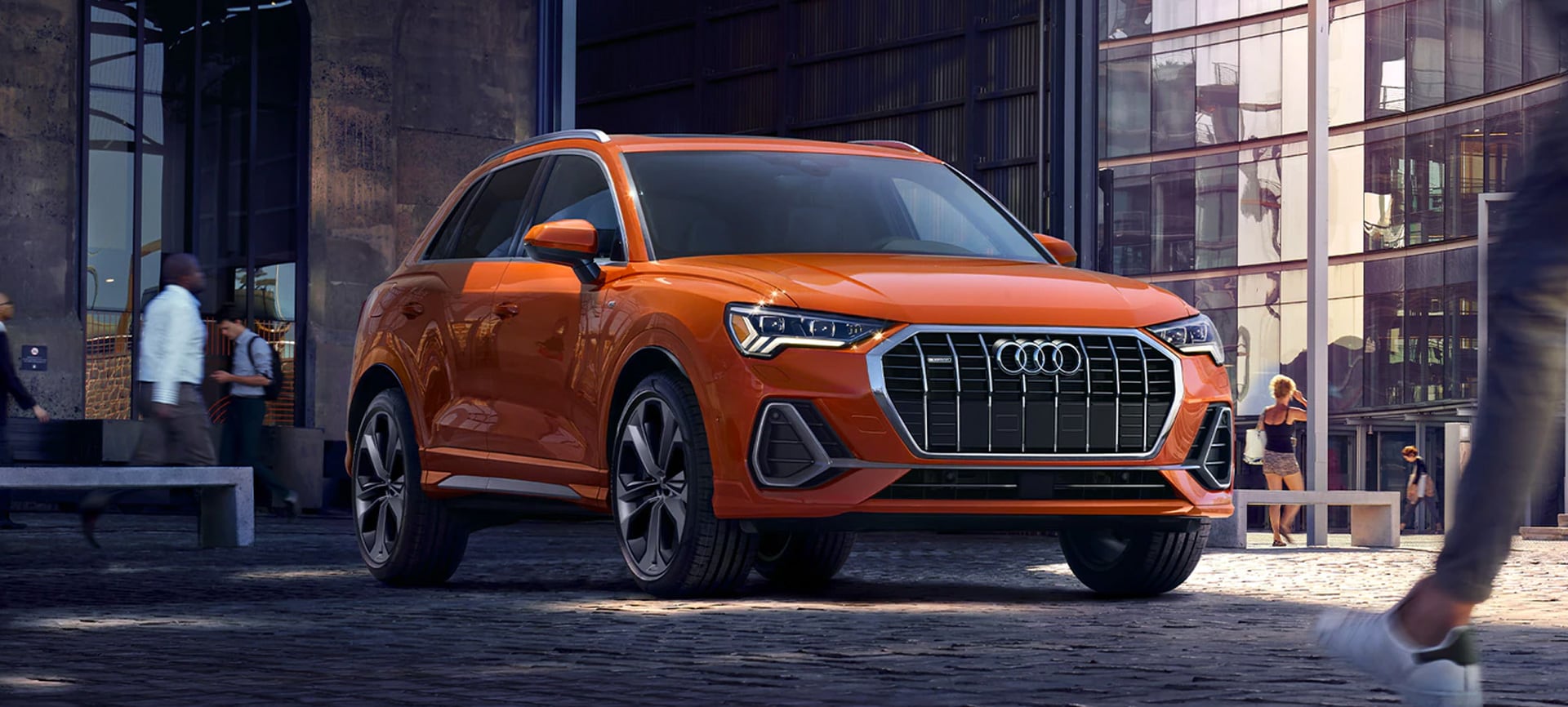 2022 Audi Q3
Starting at $35,000.*
Fits your lifestyle
Perfect balance of smart design, impressive performance, and everyday functionality, the Audi Q3 is ideal for city driving or adventures on the open road.
Performance
2022 Audi Q3
Far and wide

The broad, Singleframe® grille emphasizes the strong, confident presence of the Audi Q3, while its SUV proportions push boundaries, flexing its muscular fenders.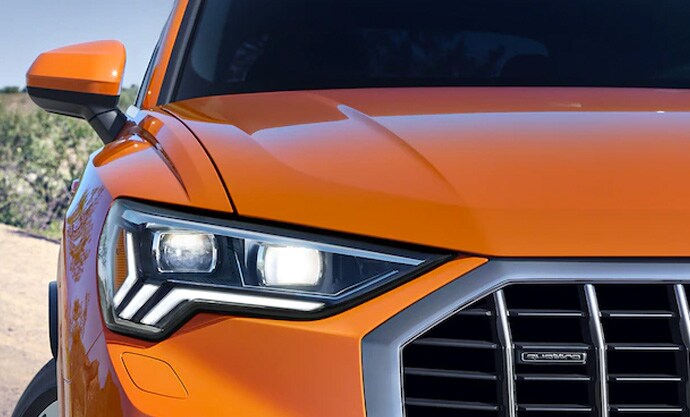 Shine bright
Available on Premium Plus trim, full LED headlights feature sophisticated, daytime running lights.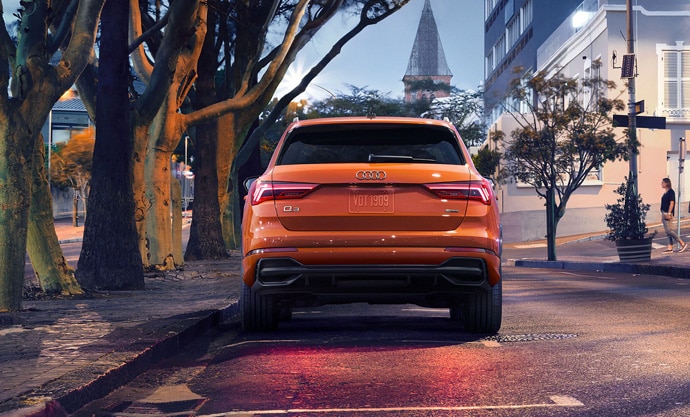 Seen from afar
Dynamic LED taillights illuminate in sequence, adding a premium touch.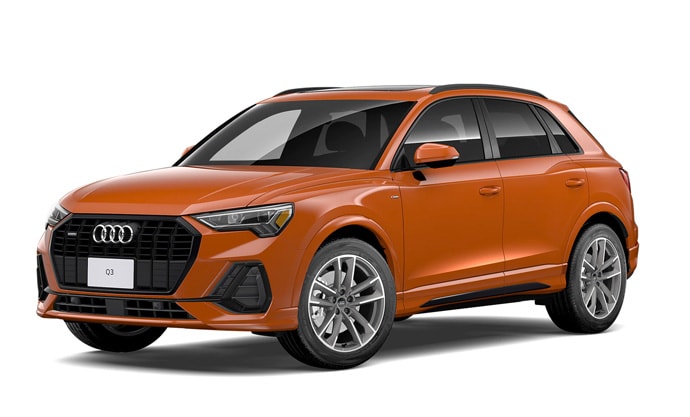 Go undercover
Optional Black optic sport package on the Audi Q3 S line 45 TFSI® adds a sleek look to both the interior and exterior.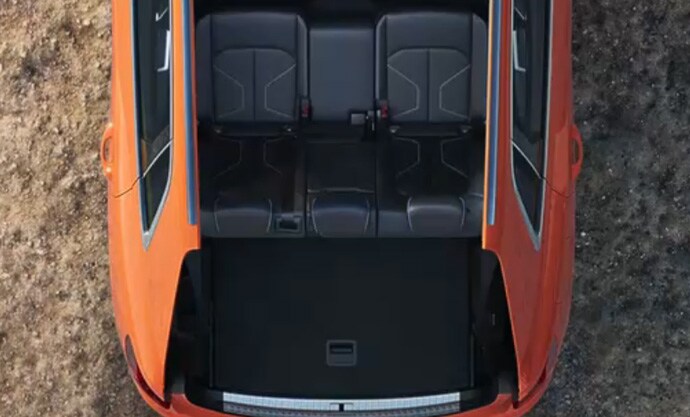 Versatility is a virtue
Designed to adapt to everyday life, the Audi Q3 features split folding rear seats that slide or recline, offering many options for passengers and cargo.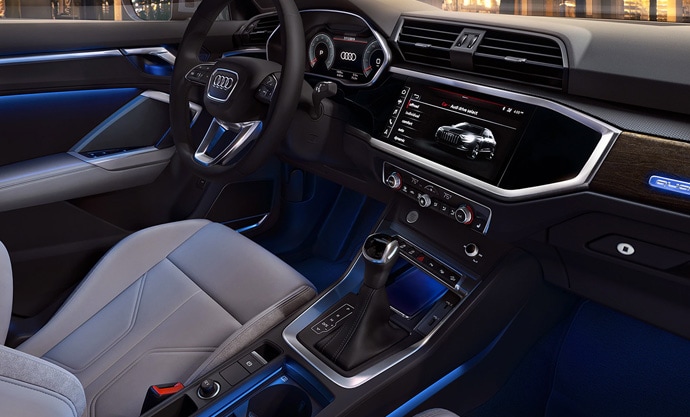 Color your world
The LED interior lighting plus package is standard on the Premium Plus. Choose between 30 vibrant colors to make your Audi Q3 truly your own.
Performance
Handles it well
Unafraid of a little adventure, the Audi Q3 delivers a nimble yet refined performance, proving that a compact SUV can also be an exhilarating ride.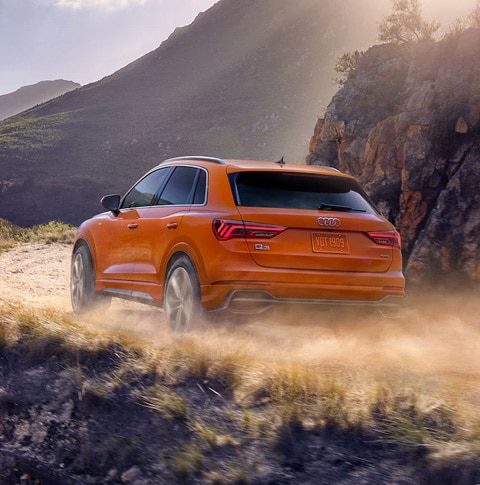 Explore more
The Audi Q3 is always ready for more. The turbocharged 2.0-liter engine comes in two variants: a 184 horsepower or a more potent 228 horsepower powertrain.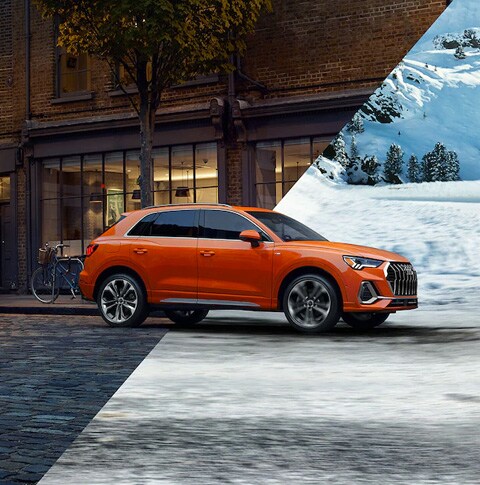 quattro® all the way
Standard quattro® all-wheel drive improves acceleration and handling-when and where road conditions are not ideal.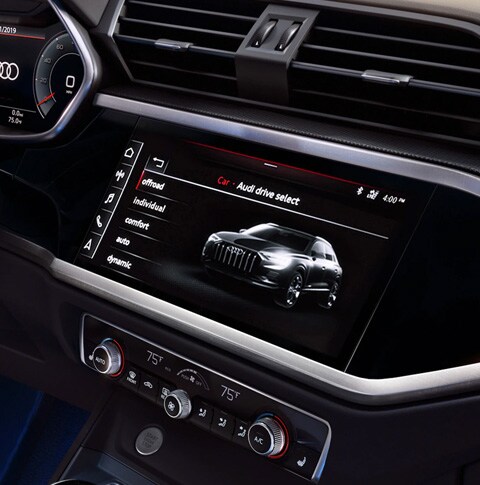 Audi drive select
Whether you're driving around town or on dirt roads, Audi drive select adjust the engine, transmission, and steering to best fit your driving preferences.
Technology that feels limitless
Driver-centric, intuitive controls keep all of your infotainment and connected services easily accessible.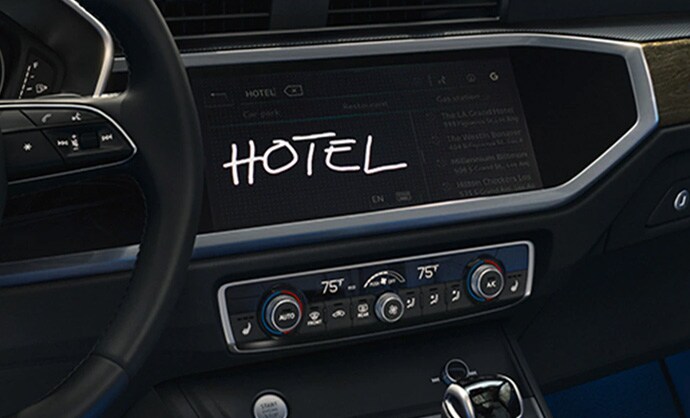 Audi MMI® touch display
Access your contacts, messages, playlists, and more with just a touch, scroll, or swipe. Arrange system icons in order of preference on the available 10.1" display for a personalized interface.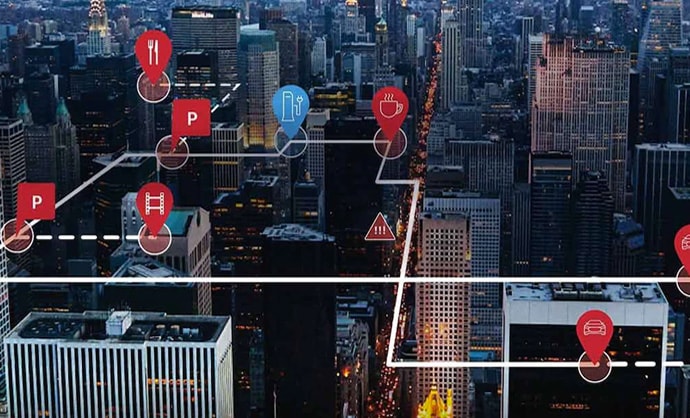 Audi connect®
Take advantage of fully integrated and seamless assistance tool-including intelligent optional navigation, roadside assistance, and more.*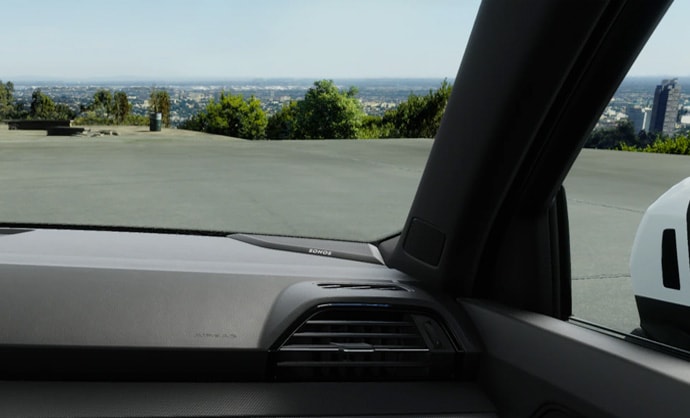 Amazing sound
Your vehicle becomes a concert hall with the available SONOS premium sound system with 3D sound. Enjoy the sound clarity of 15 speakers, a 16-channel amplifier, and 680 watts of power.
Driver Assistance
Hindsight and foresight
Drive with confidence. The advanced driver assistance systems on the Audi Q3 are engineered for convenience, helping you enjoy your ride.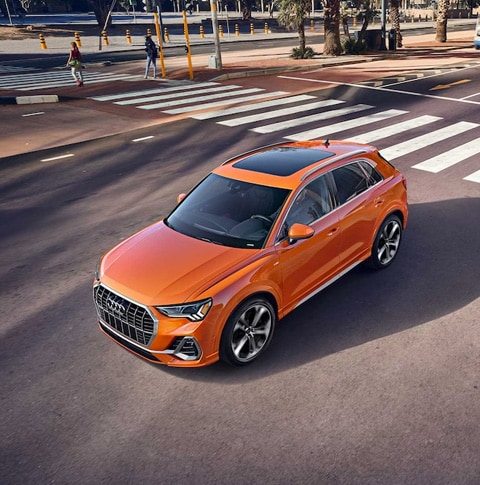 Audi pre sense front.
Using a windshield-mounted front camera, Audi pre-sense front can scan the road ahead and give you a series of warnings in case of a potential accident. If there is no response, the vehicle can brake automatically to avoid a collision or reduce the severity.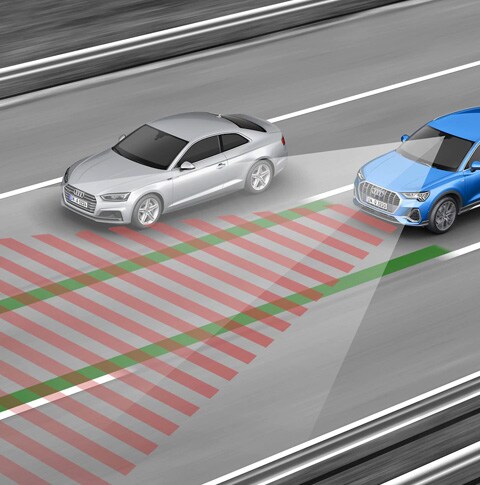 Audi adaptive cruise assist
Be less stressed in traffic with available Audi adaptive cruise assist with Traffic Jam assist. The hands-on system maintains a preset distance to the vehicle ahead and helps keep you centered in your lane.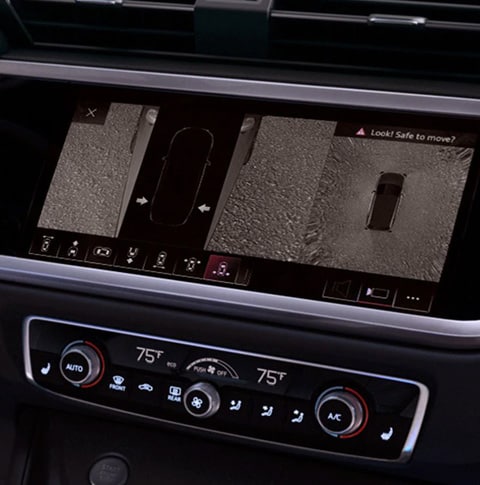 Bird's eye view
Park with confidence. By combining the information gathered by the vehicle's cameras, the available top view camera system shows the car's position in relation to its surroundings with a virtual overhead view.
2022 Audi Q3 Baltimore, MD
Introducing the 2022 Audi Q3 Baltimore, Maryland, MD, from Audi Annapolis.
Prepare to be mind-blown as you're about to meet the brand new 2022 Audi Q3 Baltimore, MD. This compact SUV is what you get when a stunning, chiseled body joins forces with a top-notch engine to deliver a driving experience unlike any other.

The compact SUV boasts uber-cool and sophisticated technology, with relatively unmatched driver assistance features. With the Quattro Drivetrain, you are guaranteed to get everything you bargained for and more.

We have seen the wonder that the 2022 Audi Q3 Baltimore, MD is. And, that's why we would be delighted to give you an all-stops-covered tour of its features and specifications. Reach out to us, and we'd love to be of assistance.



What are the interior, exterior and performance features of the 2022 Audi Q3 Baltimore, MD?
If you want to experience the dynamic ergonomics of the 2022 Audi Q3 Baltimore, MD first-hand, feel free to book your test drive of the SUV at Audi Annapolis. Allow us to give you a detailed breakdown of the features, and you can take the swanky vehicle for an adrenaline-pumping spin.
What are the interior, exterior, and performance features of the 2022 Audi Q8 Baltimore, MD?
The 2022 Audi Q3 is an absolute delight for passionate drivers, given the plethora of incredible features that it brings to the table. The compact SUV comes with a broad Singleframe grille, making it as tough as nails. The astonishing LED front lights and taillights lend the SUV a classy and elegant finish.

The SUV comes fitted with five twin-spoke dynamic design wheels, five twin-arm design titanium wheels, and five twin-spoke module design wheels.

This model is available in some truly exciting shades – Pulse Orange, Ibis White, Mythos Black Metallic, Navarra Blue Metallic, Tango Red Metallic – to name a few.

The split-folding rear seats promise optimum customization and impeccable comfort. What's more, the LED Interior Lighting Package allows you to pick from over 30 colors. Let's move on to the specifics of the 2022 Audi Q3's performance.

The compact SUV has a 2.0 L engine with two variants, the 184 HP powertrain and the 228 HP powertrain. Add the brute power of the Quattro to the mix, and you've got an absolute joyride on your hands. The Audi Drive Select allows you to toggle between the off-road, individual, comfort, auto, and dynamic drive modes – paving the way for super-individualized drives.

The 2022 Audi Q3's 15.9 gallons fuel tank capacity can only mean one thing: you can lap up the mileage to your heart's content. And, let's not forget the impressive sunroof that your passengers can make the most of.

Moving on, we at Audi Annapolis were awe-struck by the cutting-edge technology of the 2022 Audi Q3 Baltimore, MD. Here's what you'll get – the Audi MMI Touch Display, the Audi Connect, and a SONOS Premium Sound System comprised of 15 speakers that can meet all your entertainment needs in style.

Finally, the 2022 Audi Q3 makes no compromise whatsoever on the safety of you and your passengers. The driver-assist features like the Audi pre sense front, the adaptive cruise assist, and a bird's eye parking view system ensure that you always drive safely. Throw advanced airbags in the mix, and you've got nothing to worry about!

But, the best part? You can build your own 2022 Audi Q3 by choosing the colors, seat materials, packages, and other accessories of your preference. Now, that's personalization at its finest.



Where and how can I book a test drive of the 2022 Audi Q3 Baltimore, MD?
To reserve your slot for a test drive of the 2022 Audi Q3, contact us at Audi Annapolis. We will take care of the rest.