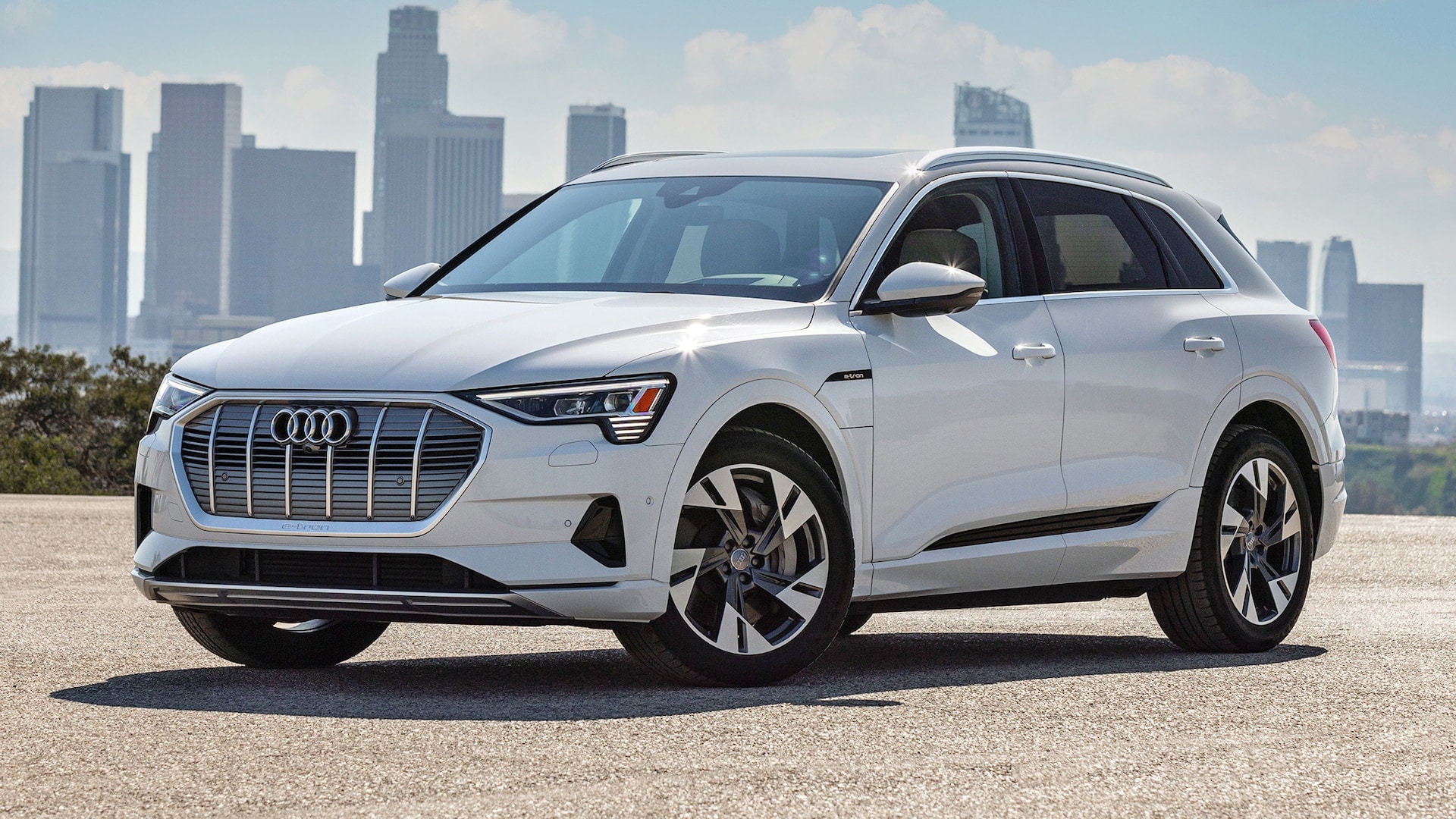 Hours of Operation
Saturday
Sunday
Monday
Tuesday
Wednesday
Thursday
Friday
9:00 AM - 6:00 PM
Closed
9:00 AM - 8:00 PM
9:00 AM - 8:00 PM
9:00 AM - 8:00 PM
9:00 AM - 8:00 PM
9:00 AM - 7:00 PM

Find us here
Audi Q4 e-tron
The all-new Audi Q4 e-tron is a compact SUV that combines style, comfort, and performance.
It's powered by a turbocharged four-cylinder engine with 295 horsepower and 207 lb-ft of torque, which can do 0-60mph in 5.8 seconds with a top speed of 130 mph. The Q4 e-tron has an EPA-estimated range of up to 280 miles on a single charge. It can be recharged in as little as 30 minutes using a 150-kW DC fast charger. Additionally, it has a dual-clutch seven-speed automatic transmission and all-wheel drive.
The Q4 e-tron features an updated version of Audi's MMI infotainment system that includes a 10.1-inch touchscreen display. The system is compatible with Apple CarPlay and Android Auto. Other standard features include LED headlights, 18-inch wheels, and heated front seats.
The Q4 e-tron has a spacious interior with plenty of room for five passengers and their luggage.
The Audi Q4 e-tron is your ultimate traveling companion. With room for five passengers and ample storage space, you'll never have to leave anyone or anything behind on your adventures. The spacious interior includes a multifunctional center console, offering flexible storage solutions for all of your belongings. The large panoramic glass roof adds to the feeling of spaciousness and allows natural light to flood the cabin. Plus, with an electric range of over 280 miles on a full charge, there's nothing holding you back from experiencing true freedom on the open road. The Audi Q4 e-tron proves that electric vehicles can provide both comfort and practicality without sacrificing style.
The all-new Audi Q4 e-tron is a stylish and capable SUV that's perfect for commuting or weekend getaways. It has plenty of power, a long range, and quick charging times. It comes standard with features like LED headlights, heated front seats, and a panoramic sunroof. You can also upgrade to features like a Bang & Olufsen sound system, 20-inch wheels, and adaptive cruise. With all these bells and whistles, the Q4 e-tron from Audi Annapolis is sure to turn heads when it hits the road.
Safety is also a top priority in the Q4 e-tron, with standard safety features like adaptive cruise control and automatic emergency braking.
The Q4 e-tron is not just a stylish, eco-friendly, and high-performing electric vehicle; it also puts safety at the forefront, with standard features such as adaptive cruise control, heads up display and automatic emergency braking. These advanced technologies help monitor traffic and keep the Q4 e-tron at a safe distance from other vehicles on the road, while also automatically applying the brakes in case of a potential collision. The Q4 e-tron also boasts a solid steel frame, further enhancing its overall durability and crash protection. So not only will you be able to enjoy every moment behind the wheel of this sleek electric car, but you can feel confident in knowing that your safety is taken care of. And isn't that what truly matters when it comes to choosing a vehicle? Choose the Q4 e-tron for both peace of mind and exceptional performance.
If you're looking for an SUV that has it all, the Audi Q4 e-tron should be at the top of your list!
If you're in the market for an SUV that has everything you could possibly want, look no further than the Audi Q4 e-tron. You'll realize this immediatley during your Q4 e-tron first drive. With its sleek design and luxurious interior, this SUV will turn heads while also providing ultimate comfort. But it's not just about looks - the Audi Q4 e-tron offers impressive performance thanks to its dual-motor electric powertrain, giving it both an all-wheel drive and a substantial amount of power. And with a range of over 250 miles on a single charge, this SUV can handle even long trips without needing to stop for gas. The Audi Q4 e-tron truly has it all - style, performance, and sustainability. Don't miss out on the opportunity to drive this exceptional vehicle.