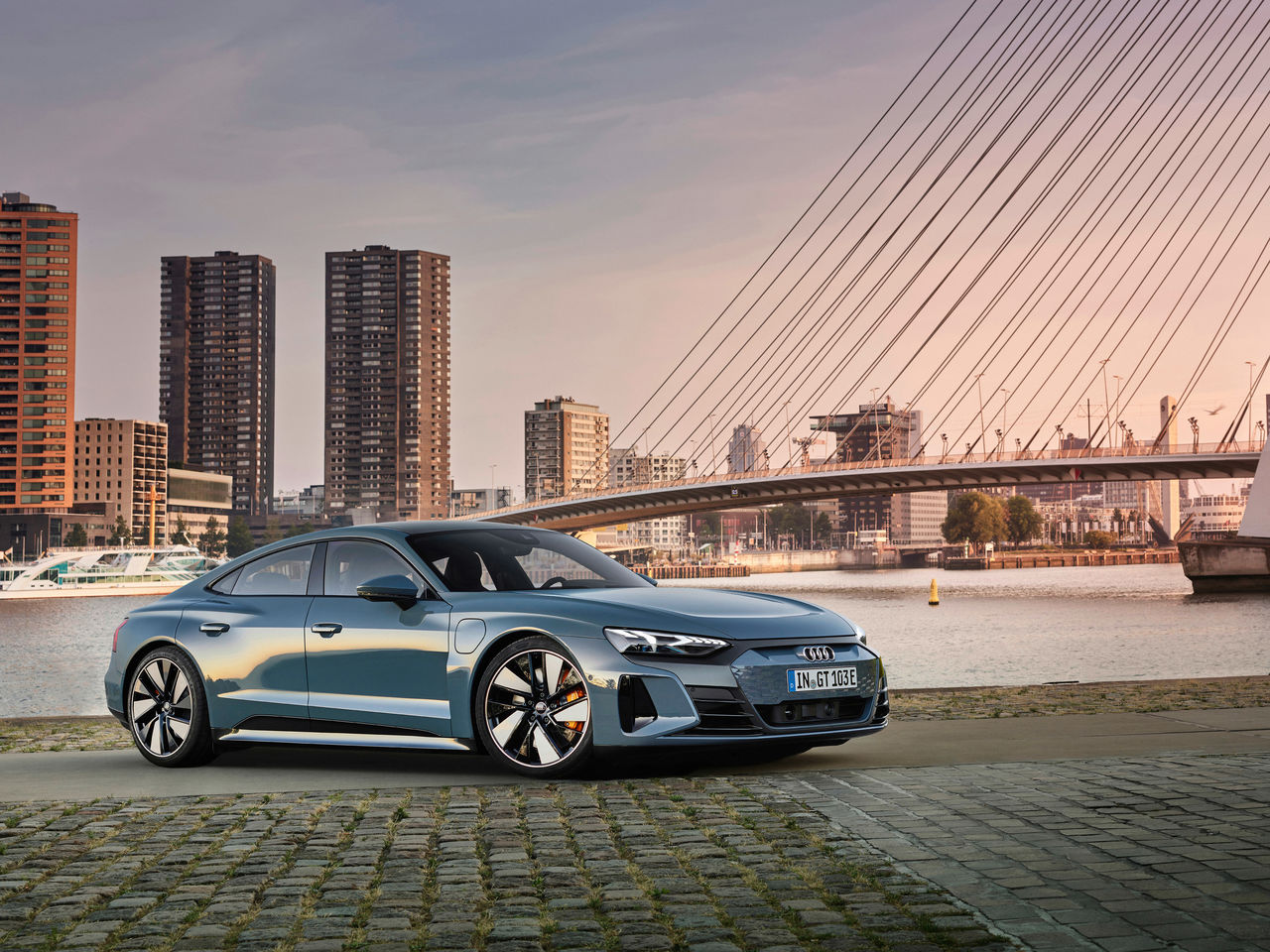 Hours of Operation
Saturday
Sunday
Monday
Tuesday
Wednesday
Thursday
Friday
8:00 AM - 6:00 PM
Closed
7:30 AM - 8:00 PM
7:30 AM - 8:00 PM
7:30 AM - 8:00 PM
7:30 AM - 8:00 PM
7:30 AM - 7:00 PM

Find us here
2022 Audi E-Tron Electric Car Now at Audi Annapolis MD
Renowned for its superior design, performance, and innovation, Audi is here with the e-Tron range. The Audi e-Tron range is an exciting line-up of exceptional electric vehicles with superior performance. These fully electric vehicles have an e-Quattro all-wheel-drive system, excellent charging capabilities, and intelligent technology.
Let's analyze what the e-Tron series offers and how it exactly raises the bar with its unique features and driving experience. Today, you can also get a hands-on experience of these cars at Audi Annapolis MD.
Top Features of Audi e-Tron Electric Vehicles
The technology that goes into making an Audi e-Tron ensures that the cars have a maximum range and highly fast-charging batteries. It becomes easier for you to switch to electric vehicles. And here is how Audi makes the experience of an electric car as efficient as possible.
Recharge At Home
Qmerit provides white-glove home charger installation that is easy to set up and use. Now, you can charge your 2022 Audi e-Tron at home itself. So, whenever you are in relax mode at home, your car can gear up and get ready to be your companion when you step out.
Manage Every Recharge with myAudi App
If there was ever an all-in-one app, it was this. myAudi app is a convenient buddy for your Audi. You can track your travel details and battery charging progress with it. That's just the tip of the iceberg. You can also pre-cool or pre-heat the car, stop or start charging your car, and keep a check on your battery flow. The best part is all of this can be done remotely.
Batteries
The batteries of these electric vehicles take them beyond everyday driving. If you are traveling for a vacation and cannot access the charging station at home, you can use the country-wide fast-charging station network. And don't worry about remembering where they are; your Audi knows.
Regenerative Braking
When you slow down, the car recovers the battery engine. This effectively recharges the battery, and brakes are applied. This means that regenerative braking in the Audi e-Tron helps with conserving battery energy and increasing your car's range. This technology goes a long way in ensuring that the battery lasts longer and increases the car's maximum range.
The Audi e-Tron Series @ Audi Annapolis, a Criswell Company
The 2022 Audi e-Tron has four magnificent models with varying features so that you can pick the Audi that suits you. Audi e-Tron SUV, Audi e-Tron Sportback, Audi e-Tron GT, and Q4 e-Tron from the 2022 line-up are embedded with some of the best technologies to make your driving experience one-of-a-kind, safe, and smooth.
All these models have their unique features. However, all these cars have in common driver assistance features because Audi takes your road safety very seriously.
To begin with, there is Audi pre sense front. It warns the driver about the potential accidents ahead and sends warnings. If the driver does not respond to the warnings, the car automatically hits the brakes. It significantly reduces the chances of collision.
There is adaptive cruise control assist for traffic relief that aids in lane guidance. It keeps a pre-set distance between you and the vehicle in front of you and keeps you centered in your lane.
There is a top view camera system that provides a 360-degree view of the exterior of your car. You can shift between vies and see your vehicle from all angles.
Audi e-Tron SUV
Audi e-Tron Sportback
Audi e-Tron SUV
Audi e-Tron GT
Features
Estimated EPA
(in miles)
222
218
241
-
NHTSA Safety Rating
5-star
5
-
-
Cargo Volume
(in cubic feet)
56.4
54.5
53.1
-
Battery Capacity
(in kWh)
-
-
82
-
Performance
Horsepower
(in HP)
402
402
295
637
Torque
(in lb-ft)
490
490
-
-
0-60 mph in
(in secs)
5.5
5.5
5.8
3.1
Battery Charge Time
(in min)
-
-
38
22.5
Table comparing different Audi e-Tron electric car models
Audi e-Tron SUV
Audi e-Tron SUV's ergonomic design brings the drag coefficient down to 0.30 cd. It reduces resistance and optimally uses battery energy. It also has 40/20/40 split-folding rear seats, giving you plenty of space. The virtual cockpit displays essential information like maps, direction, and speed. Escalate your ride experience with the Bang & Olufsen Premium sound system with 3D sound. What's more, there is a 3-month trial subscription to SiriusXM.
Audi e-Tron Sportback
You will get to experience the S-line exterior features here, including sporty bumpers and other exciting features. Interestingly, it has an additional AC charging port at the passenger seat side for added convenience. The electric car will continuously adapt to the current driving situations to optimize the driving dynamics. Depending on the road, the car will also select the best steering, suspension, and drivetrain for you. It also has a 3-month trial subscription to SiriusXM.
Q4 e-Tron
This electric car model strikes the perfect balance between Q5 and Q3 models. It has storage features like bottle holders on all doors and a roomy compartment inside the console. It also has 40/20/40 split-folding rear seats to increase the cargo space. You can select from the three different braking recuperation levels with the shift paddles on the steering wheel. It is also one of the first Audi models to have an augmented reality head-up display.
Audi e-Tron GT
The e-Tron GT and the RS e-Tron GT families provide one of the best exhilarating launch control. It also has onboard route planners that suggest the charging stations around you. It provides amazing stability. The e-Tron GT and the RS e-Tron GT come with mood lighting, supreme sound quality, and a virtual cockpit with a head-up display.
So, these were features of the Audi e-Tron hybrid electric car models. Now you can compare them and find out which is the best for you. You may visit Audi Annapolis MD to get your dream car.